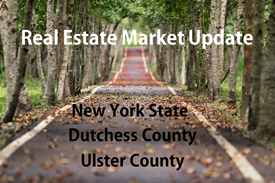 Let's summarize some of the more important statistics from the latest real estate market report from the New York State Association of REALTORS®. We're going to take a look at New York State, and then drill down to Dutchess and Ulster Counties numbers.
Overall the real estate market is healthy and it is a good time to sell and buy. Because inventories of available homes are low, it is a sellers market, but so far this situation has not led to significant increases in sales prices.
State of New York - Year-to-date through February 2016, compared to the same period last year:
• 7.9% more listings came on the market, but the inventory is still low in certain areas.
• Pending contracts were up 19.6%. These are properties that have accepted contracts but have not yet closed.
• Closed sales were also up this year by 18.7%. Based on the increase in pending contracts, it looks like we will also see a significant increase in closed sales for March.
• The median sales price and the average sales price had no significant change (both under 1%). The affordability index also remained unchanged.
• Inventories of available homes have reached an ever lower level, currently at only a 6.9 months' supply, down from 8.2 months in February of 2015.
Dutchess County - February 2016 compared to February 2015
New listings were up a whopping 61%, from 277 in February 2015 to 446 last month. This has led to an increase in pending sale activity and closed sales. All of our agents are busy helping buyers and sellers, and the new listing activity in our offices has also increased significantly in March. Closed sales were up 17.5% and median sales prices were also up 7.9%, with a median sales price last month of $257,250. In spite of the spike in new listings, the months' supply of inventory of available homes for sale is down 26.5%. This is because homes have been selling as a brisker pace than last year . . . which is a good thing.
Ulster County - February 2016 compared to February 2015
New listings were also up in Ulster County, by 23.7%. Closed sales nearly doubled (up by 89.6%) last month compared to February of 2015, another testament to an optimistic market. The median sales price was up from $165,000 last February to $190,000 last month. Once again, inventories are down by 24.3%.
When looking at a small subset of data, you can't really draw too many conclusions or predict trends from that, but activity has definitely increased this winter.
If you are planning to sell your home soon, contact us and we will provide you with expert guidance and help you achieve your unique goals.