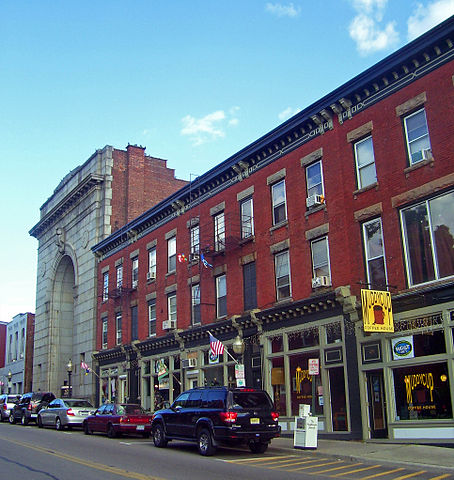 An hour and fifteen minute trip from Penn Station, Beacon is located approximately 65 miles north of New York City on the eastern shore of the Hudson River. The city is noted for its proximity to numerous historic sites, large cities, and breathtaking natural scenery. It sits with the famous Mount Beacon as its backdrop, the Hudson River as its front door, and was named to commemorate the historic beacon fires that blazed forth from the summit of the Fishkill Mountains to alert the Continental Army about British troop movements.
As of the 2010 census Beacon had a total population of 15,541 on 4.9 square miles.
Watch videos about Beacon on the City of Beacon's Vimeo channel.
Beacon has a variety of museums, art galleries, antique stores, and unique eateries, making it a great place to visit as well as to live.
Photo: Part of the Lower Main Street Historic District in Beacon, NY, USA; author Daniel Case.
Beacon's major route is Interstate 84, which passes through the city's north side, providing a connection that is minutes to the Taconic State Parkway, New York State Thruway, and Stewart International Airport. The city also has the Newburgh-Beacon Bridge which carries the Interstate Highway over the Hudson River. Commuter service to New York City is available via the MTA Beacon Train Station, served by Metro-North Railroad.
The Beacon City School District serves the City of Beacon and parts of the Town of Fishkill and Town of Wappinger. The district is composed of four elementary schools, a middle school, a high school, administration building as well as a transportation facility. It has an enrollment of approximately 3,700 students.
Javascript is required to view this map.